…Representatives from the EC,.and Political Parties in a panel discussions, moderated by Mr. Kofi Yeboah
The maiden training of Journalists for GJA/US Embassy Ghana Elections 2024 project kickstarted in Ho in the Volta region on Wednesday November 15, 2023.
The Project, themed " Promoting Peaceful Media Platforms Ahead of Elections 2024" brought together the movers and shakers of the inky Fraternity in the Volta and Oti regions as well as Resource Persons from the Electoral Commission, the Security Agencies and Political Parties also drawn from the two regions.
In an opening remarks, the Team Lead of the Project, Ms. Rebecca Ekpe explained that the project has been necessitated by growing concerns about the conducts of Journalists during elections.
She added that the objective of the project is to safeguard the freedom of the press while advancing credible and violence-free elections via peaceful media platforms before, during, and after the 2024 presidential election.
She further emphasized that freedom of expression does not only mean allowing people to speak but also ensuring responsibility.
Ms.Ekpe , also the Public Affairs Officer of the GJA therefore encouraged the Participants and Journalists to take advantage of this project in order to carry out their mandate Professionally.
On his part the General Secretary Mr. Kofi Yeboah who represented the President touched the need for Journalists to always be mindful of their conducts especially during elections.
He said the conduct of Journalists can make and unmake hence the need for Journalists to be extra circumspect .
In his view this project which gives an opportunity to exchange knowledge and foster an environment conducive to discussions on violent free elections would help in ensuring that our democracy is safeguarded and secured even beyond 2024.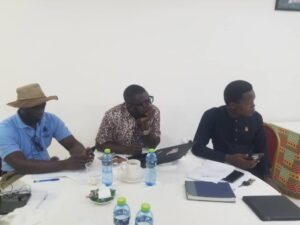 In a statement read on his behalf, the US Embassy Press Attache, Mr. Kevin Brosnahan expressed the Commitment of US Embassy to continue to support the deepening of Ghana's democracy.
"We understand the important role journalists must play in free and fair elections in Ghana. That's why we are here today and that's why we are working with GJA to provide journalists with the tools and training they need to positively support Ghana's elections next year", Mr. Brosnahan stated.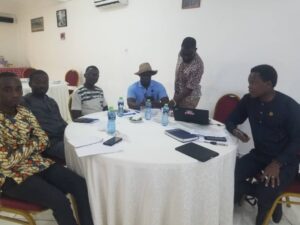 The Oti Regional Director of Elecroral Commission, Mr. Nuhu Mahama took the Trainees through the topic " Integrity of Elections: Media's Role" whilst Fred Duodu presented on " Fact Checking, Peace Sensitive Reportage and Elections Coverage".
The Political Parties were represented by the Regional General Secretary of the NDC , Mr. James Gunu and the Regional Communication Member, Mr. Stephen Akpabli who took turns in committing to peace during elections.
AMA GHANA is not responsible for the reportage or opinions of contributors published on the website.