An Accra High Court has ordered the National Investment Bank (NIB) to release funds amounting to GHC310,000.00 from the account of the Communications Director of Ghana Gas Company Limited, Ernest Owusu Bempah to Engineers and Planners CEO Ibrahim Mahama.
The Court gave the order pursuant to an application filed in the Court by Reindorf Twumasi Ankrah, lawyer for Mr Mahama, asking the Court to compel NIB to release funds held in an account belonging to Mr Owusu Bempah as payment of judgment debt.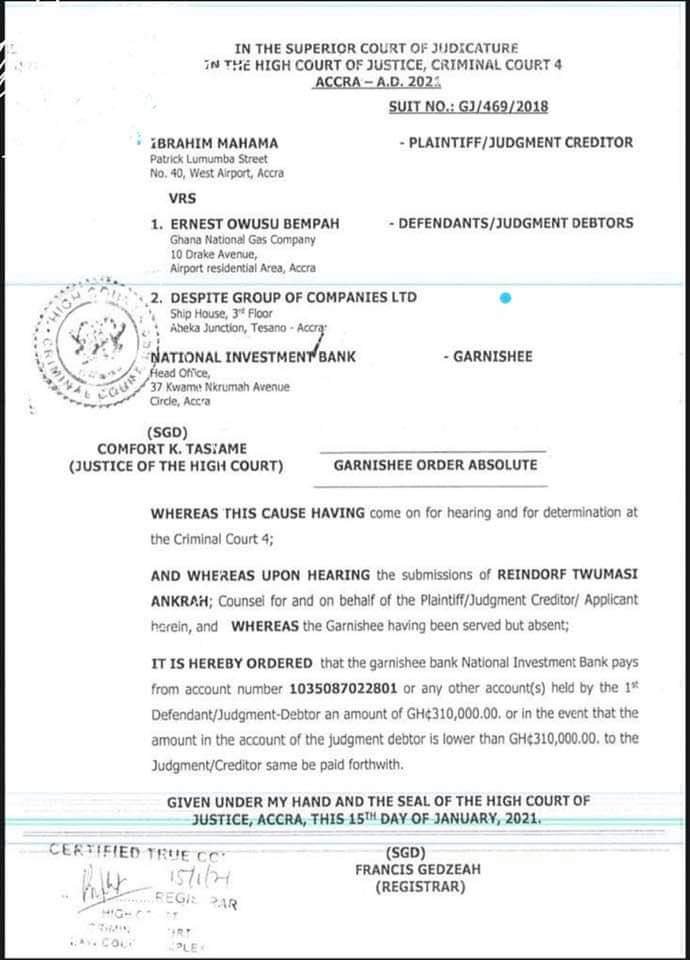 Background
Ibrahim Mahama has won his defamation suit against the Public Relations Manager of Ghana Gas Company Limited Ernest Owusu Bempah and the Despite group.
The business magnate last year sued Mr. Owusu Bempah for defaming him on UTV, a subsidiary of the despite media group.
The brother of former President John Mahama was demanding a GHC2 million compensation but the court granted GHC310,000 instead. The judge noted she would have considered the full amount if Mr. Mahama himself had showed up in court during proceedings instead of his aide Rafik Mahama.
"Ernest Owusu Bempah by publishing those words directed at the person of Ibrahim Mahama, he has defamed him. I shall proceed to grant judgment in favour of the Plaintiff, Ibrahim Mahama. As we move towards next year's election, we need to be guided," Justice Georgina Datsa noted in her judgment Friday.
She also directed UTV and Mr. Owusu Bempah to remove the defamatory material from all archives.
Case for Mr. Mahama was led by Reindorf Twumasi Ankrah and supported by Gloria Amoah and Makafui Dzimabi.
AMA GHANA is not responsible for the reportage or opinions of contributors published on the website.