The Member of Parliament for the Salaga South Constituency in the Savannah Region, Hon. Hajia Zuwera Ibrahimah has donated 150 packs of sanitary towels to female students in Salaga.
The donation was made on Friday, 28th May 2021, in commemoration of world menstrual hygiene day. In a speech read on behalf of the Hon Member Parliament by Madam Nadia Alidu, she mentioned that Hon. Hajia Zuwera Ibrahimah was passionate about the welfare of her constituents and as a woman, herself identifies with the challenges that women and girls face during their menstrual cycle.
World menstrual hygiene day was initiated by The German-based NGO, WASH United to highlight the importance of menstrual hygiene, break taboos and create awareness.
Each year, on the 28th of May, NGOs, Government agencies, and development partners commemorate the day through events, fora, public information campaigns, and community-based activities to advocate for the integration of menstrual hygiene management into global, national, and local policies. This year's global event is celebrated under the theme "Action and Investment in menstrual hygiene and health."
It is in line with this agenda that the MP for the Salaga-South constituency, Hon. Hajia Zuwera Ibrahimah, has resolved to actively participate in the campaign to advocate for menstrual hygiene for schoolgirls and female apprentices in the Salaga-South constituency.
Overall, about 150 girls have benefitted from menstrual hygiene products including sanitary pads and toiletries.
The Honourable member of parliament in the speech read on her behalf said she has seen the effects of poor menstrual hygiene on the girl child first-hand and has undertaken to vigorously advocate for improved menstrual hygiene at both the national and constituency levels.
The challenges faced by the girl child during their menstrual cycle, often sees her ambitions of getting education and empowerment being periodically curtailed.
Female students and apprentices in many parts of the world often skip school during their menstrual cycle due to the unavailability of menstrual hygiene products. Some are made to drop out of school completely due to the same reason.
In the short address read on her behalf, Hon. Hajia Zuwera Ibrahimah said that 'globally more than 800 million women and girls menstruate every day, yet they faced barriers to properly manage their menstrual periods. Often the social stigma and taboos that surrounded menstruation, prevented women and girls from attending work and school.'
Hon. Hajia Zuwera Ibrahimah affirmed her commitment to working with stakeholders to end such stigma and to ensure that women and girls in her constituency would be encouraged to continue attending school during their menstrual cycle, and that she would also work closely with other relevant authorities to break the stigmas and taboos associated with the menstrual cycle, especially in a largely rural constituency.
Hon. Hajia Zuwera Ibrahimah concluded that she hopes to reach a lot more girls in subsequent years and create a mechanism of regular engagements in line with menstrual education campaigns and support all year round.
This she believes would go a long way to liberate the girl child from menstrual mysticism and set them on the path of growth and progress, especially during these challenging times of the COVID-19 pandemic.
She used the occasion to encourage the government to make good it's promise to scrap import duties on sanitary pads in order to make if affordable to less financially endowed.
Receiving the items on behalf of the students, Hajia Jawula Sadiatu, SHEP Coordinator at GES thanked the Honourable Member of Parliament for her kind gesture and was hopeful that the Honourable Member of Parliament would continue to support the needs of the students.
The East Gonja Municipal Director of Education Madam Christiana Maabo Donzun was full of praises and appreciation for the Member of Parliment, Hon. Hajia Zuwera Ibrahimah for her benevolence.
Other participants present at the program include; Madam Sanni Amatu Mugis a staff from Salaga SHS, Madam Regina Amon Asare a staff of T. I. Amass, Madam Bonzali Sarah, Headmistress of Yagbonwura Timu Girls JHS and other staffs from various schools within the Municipality.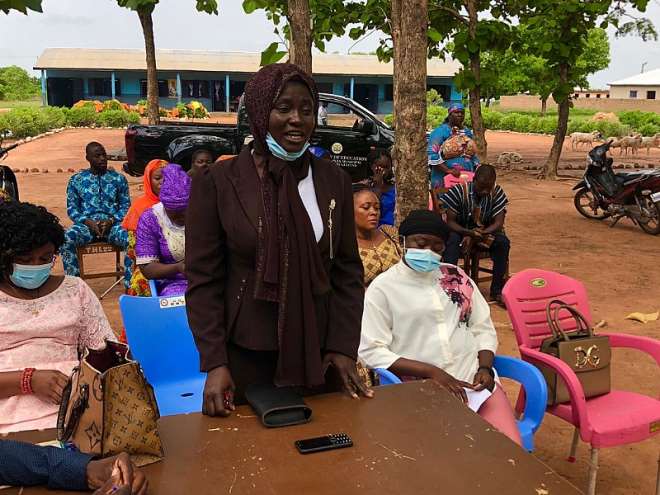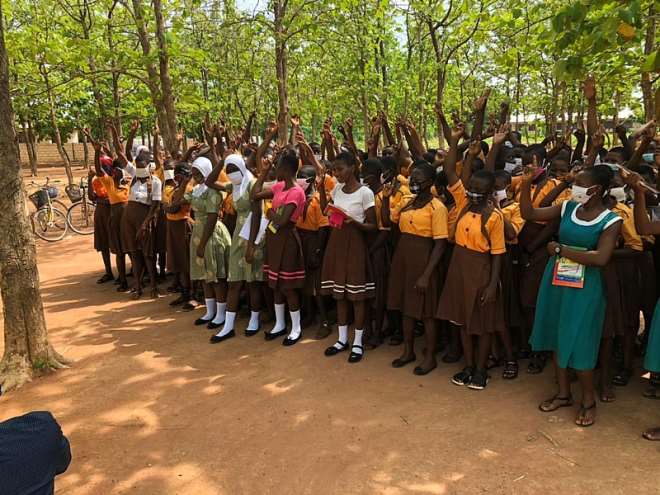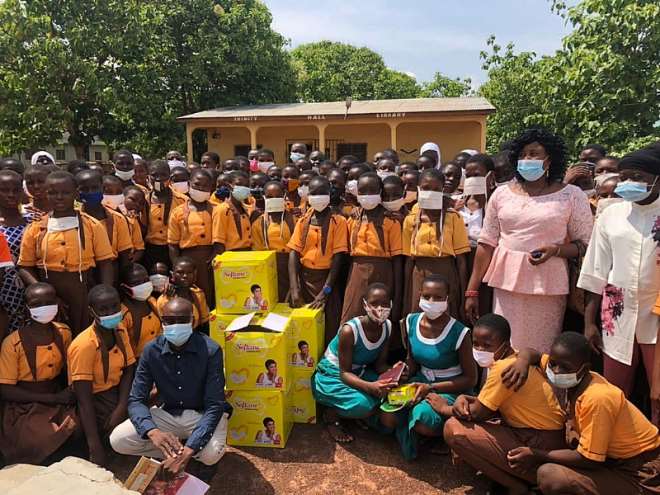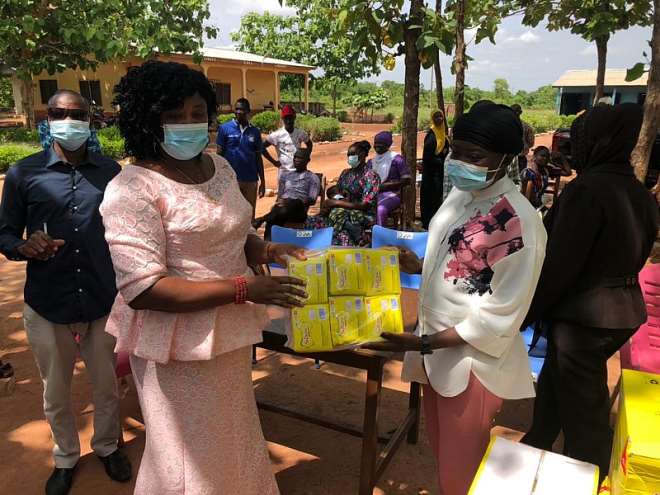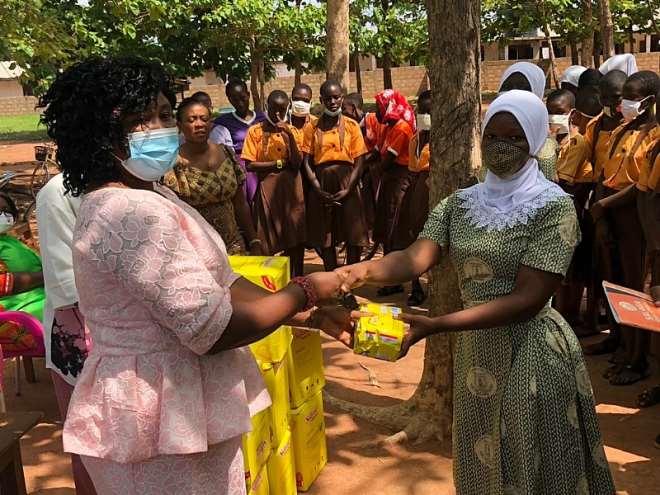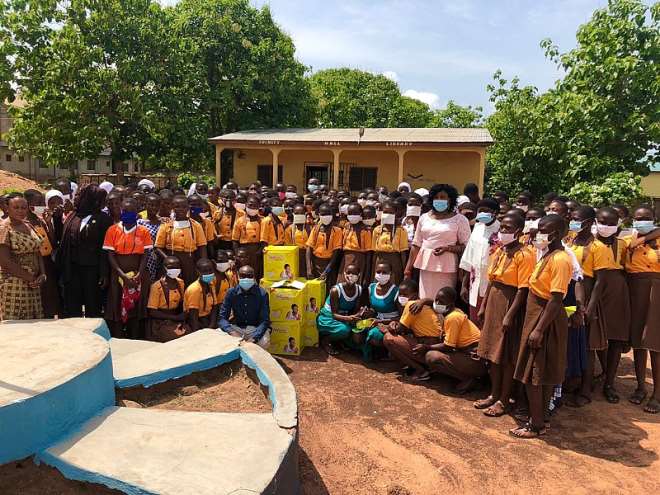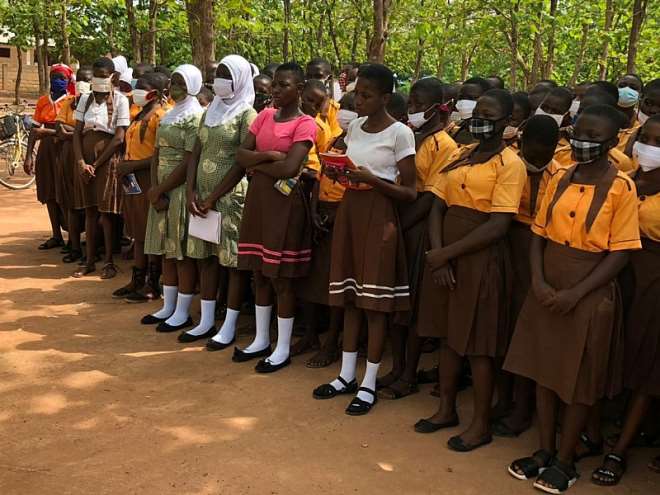 AMA GHANA is not responsible for the reportage or opinions of contributors published on the website.