The Chief Executive Officer (CEO) of Ampomah Foundation, a non-governmental organization (NGO), Nana Ama Ampomah has expressed the commitment of her outfit to look out for the needy in the society and to assist them with what they may require.
Speaking at a special encounter with some Persons with Disabilities (PWDs) at the Kings College in Kumasi on Easter Saturday, Madam Ampomah said her Foundation exists to provide all forms of support to the needy in the Ashanti region and beyond.
According to her, since its establishment about 4 years ago, the Foundation has provided assistance to persons who needed funds to continue their education.
Madam Ampomah also noted that persons who were physically challenged and the needy at some orphanages across Ashanti have been provided with support to make their lives less burdensome.
"Seeing people in need makes me unhappy and my determination is to use my hallmark of giving to help make life a little easier for those I can reach with support", Madam Ampomah passionately stressed.
GESTURE TO THE PWDS:
Madam Ampomah, who is also the Ashanti Regional Women's Organiser of the New Patriotic Party (NPP) said having learned of the situation of the PWDs who are into basketball and train at the Kings College decided to help out.
She indicated that based on the group's needs the Foundation would continually offer some assistance to them going forward.
This periodic support, Madam Ampomah noted would ensure the PWDs are able to attend to their trade as well as their choice of sport.
Presenting some wax prints, packaged food rations as well as some undisclosed amount of cash and cooked food, later on, Madam Ampomah urged persons who are well to do in the society to emulate the passion she possesses.
In a symbolic gesture, the NPP women's leader sat in a wheelchair and played with the PWDs at the basketball court.
" Today i am here with my team to fulfill the desire we have and to provide support to our folk in the PWD group by sharing with them items we find needful for their upkeep", the CEO intimated.
CHAIRMAN:
Receiving the items on behalf of the group, Mr. Kwesi Kyei, Chairman of the special PWD group said they were happy to receive such support.
He noted that the gesture was timely since the group had been struggling to access basic items and support to enhance their welfare.
Mr. Kyei who doubles as the Director of Communications of the NPP in Ashanti commended Madam Ampomah for the items.
Present at the brief ceremony were some members of the Ashanti Regional NPP Communications Team, the Ashanti Regional Organiser of the NPP, Francis Adomako as well the leader of the Crusaders group of the NPP, Clement Osei.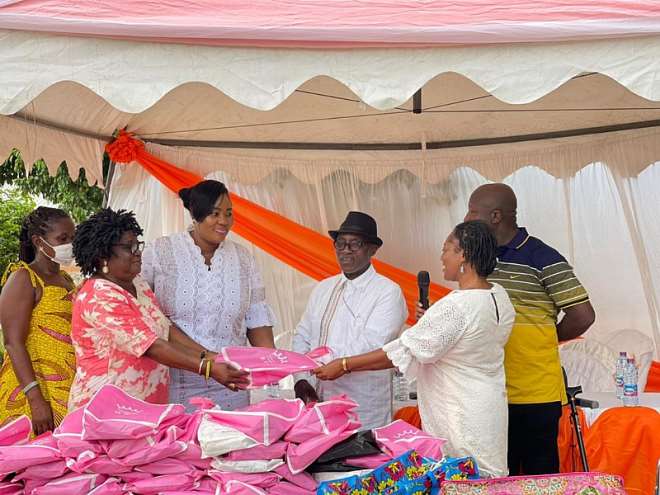 AMA GHANA is not responsible for the reportage or opinions of contributors published on the website.