Apostle Solomon James Mensah, the Chief Executive Officer of King James Foundation has emphasized the need to empower the youth through life skills training to improve their standards of living.
According to him, national development largely depends on skill training which should not be downplayed by political actors.
"Youth empowerment through skill training is one of many ways we can develop our nation. If we want to see the progress of this country then we have to embark on massive skill training. Because with that the youth can get a meaningful livelihood job to do".
He made these remarks when the foundation presented some resources to the Dzobo Skills Training Centre at Anfoega in the Volta region last week.
Items presented included Sewing Machines, needles, Machine Oil, scissors, etc.
According to him, equipping the youth especially the disadvantaged with entrepreneurial skills was very necessary to help transform their lives and become self-reliant to contribute to the development of the area.
Atsu Adjei, coordinator of the Dzobo skills training centre said, the centre has become a necessity due to the huge number of unemployed youth in the community.
" There is a lot of youth who could not finish both JHS and SHS so we felt the need to establish this to enable them to acquire a livelihood. Our education system in ghana now doesn't support the teaching of skills in basic school so boys and girls after JHS can't use their hands to d io anything which is a big menace in the community"
Emphasizing that, if solutions are not found to correct this menace, the community will be in a big in five to ten years to come.
He disclosed that the project started in 2019 but yet to commence its operations.
"In 2019, the centre was registered as a public institution which aimed at training many boys and girls and supports them with tools to enable them to work after graduation. We have not trained anyone yet due to the outbreak of Covid-19, hence we will commence this year", he noted.
He seized the moment to thank King James Foundation and its partner's (Ghana West Africa medical mission Incorporation, Florida, U.S.A.) for their emergence support, calling on other NGOs, cooperative bodies and individuals to help transform the lives of Anfoega youth.
He also appealed to the people of Anfoega to embrace the initiative for the betterment of the centre for it to benefit the community as a whole.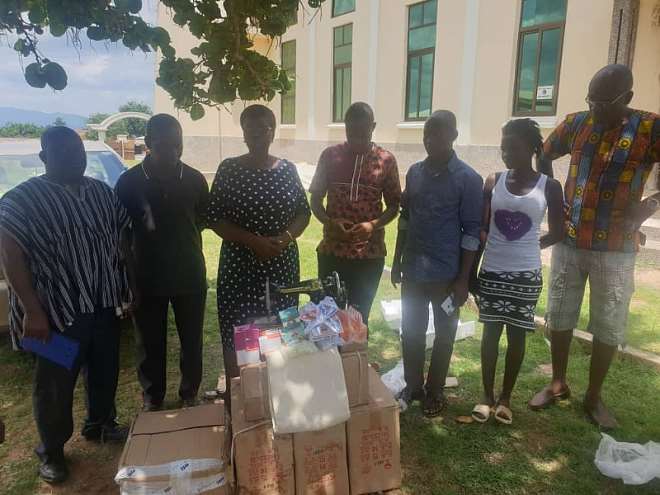 AMA GHANA is not responsible for the reportage or opinions of contributors published on the website.